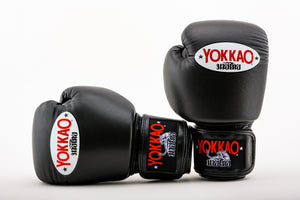 Shopping Tips Boxing and Kick Boxing gloves
Boxing gloves measurements - advice for buying boxing gloves
Information and advice for martial arts and boxing
Differences between boxing gloves and kick boxing
Buying Guide
Thai boxing is one of the best ways to exercise, socialize, improve and maintain good physical shape.

However, your level of training can only be maintained if you have the right Thai-boxing equipment.

One of the most important equipment for Thai boxing are boxing gloves.

Don't buy a pair of boxing gloves just because you need them; there are some elements that must be considered before purchasing.

Every athlete, professional or otherwise, should consider the following points before proceeding with the purchase of a pair of Thai boxing gloves in a boxing or martial arts shop.


1. First you have to take into account the material from which the boxing gloves is made.

Leather gloves should be used for Thai boxing training.

It is true that real leather gloves are very expensive, but it is also true that they have a very long duration over time compared to synthetic ones.


For a professional boxer the use of gloves with laces is recommended; gloves with velcro closure are suitable for training in the gym.

This type of closure allows greater comfort for the athlete and practical use.



2. Measure boxing gloves

Thai boxing gloves range from 4 ounces (oz) to 18 ounces (oz):
4-6 oz gloves: suitable for use for children
8 oz gloves: suitable for use by women
10 oz gloves: for intense training and competitions
12 oz gloves: training and sparring
Gloves 14-16-18 oz: sparring

The standard size suitable for both training and combat is 10 ounces, while the 12, 14, 16, 18 ounce sizes are suitable for sparring.

Normally the 8oz size is used by girls, but some athletes prefer to use them for training as well.

For boxing as well as for Thai boxing, 10oz gloves are used.

3. Get the best advice from your instructor for the size of your gloves: no one else could give you better advice.

4. Another important thing to remember is to wear boxing wraps or under gloves.


The boxing wraps, semi-elastic or completely in cotton, serve to better protect the wrists, knuckles and small bones of the hand that can easily break.

In addition to protecting against injuries, the boxing wraps absorb sweat and protect the boxing gloves from bad smells.


So: first buy the wraps and then the boxing gloves.

HOW TO CHOOSE THE RIGHT THAI BOXING GLOVES OR GLOVES FOR MUAY THAI


Many people are mistaken in thinking that Thai boxing gloves can be gloves to be used for other disciplines as well.

It is important to understand early on that each combat sport requires its specific glove.

Others think there are differences between muay thai gloves and thai boxing gloves.

It is absolutely wrong because they are identical, the practical example is given by the YOKKAO gloves worn by both muay thai fighters and European thai boxing fighters.

For people who intend to practice Thai boxing or boxing, the purchase of a pair of traditional 10oz boxing gloves is recommended.

To start, Leone1947 gloves are the best choice, then you can switch to professional YOKKAO gloves.


This type of gloves offer maximum protection for the hands and allow the athlete to train at their best.


For people who intend to practice mixed martial arts and all related disciplines, the specific purchase of mma gloves is recommended.


This type is smaller than the traditional model and has fingers spread to allow you to grab the opponent.

In the martial arts shop Muay Thai Combat you will find, exclusively for Italy, the famous mma gloves Venum, Fairtex and Hayabusa used during the fights in the cages!

They are similar to freefight gloves but have some differences.

Whatever type of gloves you buy, it is important to know how much time you intend to devote to the chosen discipline.

You always have time to buy a professional quality pair of gloves.

If you are a beginner, buy a pair of Leone1947 gloves whose quality / price ratio is optimal.

If the sport practiced becomes a passion it will be impossible to give up the purchase of Thai boxing gloves from professionals such as those made by YOKKAO, Twins Special or Fairtex.

KICK BOXING GLOVES

Kick boxing is a sport practiced by many people because it makes you more agile, helps you lose weight and achieve the desired shape.

To train properly, a good pair of kickboxing gloves is essential.
The model to choose will depend on the person and the perspectives you have in the discipline.

MEASURE

The size of kick boxing gloves depends on the activity you undertake: the 10oz is suitable for training in the gym and for any competitions, the 12-14-16oz are more suitable for sparring.

COLOR

People like to look for a different color of boxing gloves from others that characterizes them and emphasizes their personality. This is why Kick boxing gloves are available in various colors that meet everyone's needs.


Are you looking for a good pair of boxing gloves? Buy on muaythaicombat.com
---
---